BIG 12 FOOTBALL PREVIEW
The Big 12 has been crapped on the last few years because they have only had two consistent heavyweights: Texas and Oklahoma. But this year should be different with Nebraska, Missouri (yes, I said Missouri), Texas A&M, and even Oklahoma State all having the ability to be top 20 teams this season. So let's take a look with some predictions.

THE ELITE TEAMS:

TEXAS LONGHORNS-The Longhorns are still the class of the conference despite losing their last 2 conference games last season due in large part to an injury to
Colt McCoy. The Real McCoy is back with a full bill of health and ready to sling it to WR Limas Sweed and Billy Pittman (both who happen to be injury prone this summer but should start). Tight end Jermichael Finley has the talent and should have a breakout season for the Horns. Jamaal Charles might be the fastest back in the nation and should have a huge junior season which could be his last in Austin if he decides to bolt for the NFL.

The Longhorns front 7 on defense has more talent than the pool at the Playboy Mansion. Defensive tackle Frank Okam is one of the best in the nation and will be a first round draft pick next season. The Longhorns had one of the worst pass defense last year and will have to replace their defensive coordinator in Gene Chizik(more on him later). Now it's up to Duane Akina to earn his promotion and get his defense to win some games for a change.

I don't care if TCU is everybody's darling pick for a BCS Bowl this season, Texas should beat them rather handidly in the second week. The decisive game as always is the Red River Shootout on October 6th. Whoever wins that game wins the Big 12. Looking at the teams right now, Texas should win.

OKLAHOMA SOONERS-Redshirt freshman Sam Bradford won the starting QB job and will have plenty of talent in the backfield to hand the ball off. RB Demarco Murray is another redshirt freshman who could be the best back in the conference (take a deep breath Longhorn fans...good) when all is said and done. WR Malcolm Kelly
is a force with his height and skill and should have another big season. It's going to be interesting to see how Bradford breaks in especially with the Hurricanes coming in to Norman the second week of the season.

The Sooners have talent in the front 7 but lack game time experience. The strength should be the secondary with 3 returning starters. CB Reggie Smith has All-American potential. Coach Bob Stoops knows the season will make or break depending on how well the front 7 plays on defense and I think DT Gerald McCoy will step up his game and have a big season to alleviate some worries.

The schedule includes Miami, Missouri, Oklahoma State, and Texas A&M all coming to Norman. Not brutal by any means but I wouldn't be surprised if the Sooners lost at least one of those games. Of course the Red River Shootout will determine the South division's representation in the Big 12 Championship game.

THE CONTENDERS:
NEBRASKA CORNHUSKERS-Can Sam Keller lead this team? That will be the biggest question now as he has been named the starter after sitting out a year after transferring from Arizona State. Keller has skills but has never really had the

maturity (I know they are in college but some guys act older)to really lead a team. If he can take off his panties and put on his big boy pants and run Bill Callahan's bullshit West Coast offense good things could happen. RB Marlon Lucky is due to breakout if he can stay healthy. The receiving tandem of seniors Maurice Purify and Terrence Nunn have game breaking ability and should benefit by catching balls from Keller.

The Blackshirts defense is led by two outstanding linebackers in Corey McKeon and Bo Ruud. Losing Adam Carriker on the d-line is significant not only because he was a great player but because all 3 of his other linemen are also gone. A totally new front 4 will need to grow up fast if they want to compete for the Big 12 title.

The out of conference schedule includes early season matchups with ACC Champion Wake Forest on the road and USC at home. USC would absolutely beat the shit out of Nebraska if this game was being played two or three years ago, but it's not and Nebraska can hang with them. If they pull of the season's biggest upset it would catapult the Cornhuskers back to one of the nation's elite teams. It's a BIG if though.

MISSOURI TIGERS-I hate to put too much pressure on one player but I think QB Chase Daniel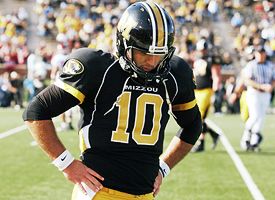 will determine if the Tigers are legit or not. If he has a huge season and improves from last season and cuts down on the costly turnovers this Tigers team could win the Big 12. He has a lot of weapons to use including RB Tony Temple and the best tight end tandem of Martin Rucker and Chase Coffman.

The defense only returns 4 starters but their best player, LB Brock Christopher, is back and should again lead the team in tackles. The defense as a whole can bend a lot with Missouri's high octane offense but if they want to win a championship they are going to have to force some turnovers.

Missouri is going to start off 4-0 and everybody will be jumping on their bandwagon after what should all be blowout wins. The home game against Nebraska will make or break their season. If they win they are in the driver's seat to win the North division. Lose and they are playing catch up all season.

TEXAS A&M-The Aggies are my sleeper pick in the Big 12. I love watching QB Stephen McGee run an offense with huge FB Jorvorskie Lane and explosive TB Mike Goodson.

Their backfield is right up there with West Virginia in terms of running ability. Tight end Martellus Bennett is the best in the nation at his position and a serious deep threat with his size. Offensively the Aggies should score a ton of points but...

The defense needs to be more consistent. Ranked 44th overall last season, they got destroyed in the Holiday Bowl against Cal. The defensive line is one of the conference's best with Chris Harrington and Red Bryant back as starters. The linebackers are not extremely talented but have game experience. The defensive backfield is deep and talented with 3 returning starters.

The Aggies open up with 3 jokes at home but then travel to Miami to take on the Hurricanes. Win that game and it's not out of the realm of possibility the Aggies are 9-0 heading to Oklahoma in early November. With games against Missouri and Texas following to finish the regular season, it is imperative for the Aggies to win in Miami to have a legit chance as my sleeper pick. We will see.

OKLAHOMA STATE COWBOYS-WR Adarius Bowman

is a pimp dressed up in a cowboy uniform on Saturday afternoons. If they beat Georgia on Saturday I will break down their whole team and schedule including their likes in women. If they don't I wouldn't expect another mention of Oklahoma State from me except for Bowman the pimp.


FALLING BACK TEAMS:
TEXAS TECH RED RAIDERS-I don't trust anything that bleeds for 3 days and doesn't die. Yes the Red Raiders have a potent fun n gun, shoot em up and bang, whatever the fuck you want to call it offense. But they don't beat the big boys and more than likely won't again this season. Don't trust them. Nuff said.

KANSAS STATE WILDCATS-I love defensive end Ian Campbell but their QB Josh Freeman turns the ball over way too many times. Despite their impressive win against Texas last season, this is just an average team. Not great and not terrible. Take it for what it's worth.

KANSAS JAYHAWKS-Why do I need to explain anything when Mark Mangino can do it...


SHIT COVERED WITH CHOCOLATE TEAMS:
COLORADO BUFFALOES-This team lost to Montana State and Baylor in one season. I think you have to give up your man card if you lose to one of those teams, but two you might as well go Owen Wilson and cut your losses. Go play intramurals brother...


IOWA STATE CYCLONES-New coach Gene Chizik should have never taken this job. Never. Ever.

BAYLOR BEARS-They have by far the worst offensive players in the conference. And their defense sucks too.


BEST GAME:
Texas vs. Oklahoma in Dallas (October 6th)-The Red River shootout is so intense that some fans will rip your balls off if you piss them off and root for the other team. Always an entertaining battle, Oklahoma is looking for revenge for the past two blowout losses in Dallas.

WORST GAME:
Baylor at Buffalo (September 22nd)-The Bears vs. Bulls sounds like a matchup of "which team captured the heart of Chicago" back in the day. This matchup sounds like Rosie O'donnell getting finger blasted by an ox.

MOST OVERRATED GAME:
TCU at Texas (September 8th)-A lot of people have this penciled in as their upset game of the year. The Horned Frogs have a good team, don't get me wrong, but they are not in the Longhorn's class. Texas wins be at least 10 points.

BEST OFFENSIVE PLAYER:
Texas A&M runningback Mike Goodson wins a very tight battle over Texas' Colt McCoy and Jamaal Charles and Oklahoma State's Adarius Bowman. Any of these guys could have huge seasons.

BEST DEFENSIVE PLAYER:
Kansas State's defensive end/linebacker Ian Campbell is the best player in the Big 12 you haven't heard of. It should be interesting to see how he plays this season under the new 3-4 scheme.

BEST FRESHMAN:
If we were going with redshirt freshmen I would have picked Demarco Murray but I'm leaving this up to true freshmen who will make an impact this season. With that being said, Colorado OT Ryan Miller will see a ton of playing time for the Buffaloes.

MOST LIKELY TO GET ARRESTED:
Another Oklahoma
fan will get piss drunk and rip the scrotum off of another Texas fan after they lose the Red River Shootout. Hopefully it will be the funbags on the left doing the tugging.

MOST LIKELY TO GET FIRED:
Guy Morriss at Baylor is most likely to get fired because he coaches BAYLOR. They are horrible every year and will have at least 10 losses this season.

PLAYER WHO WILL BE BETTER THAN WHAT PEOPLE THINK:Texas RB Jamaal Charles had a "down" year during his sophomore season but will explode for 1300 plus yards and quite possibly make a trip to NYC for some stupid trophy.

DOESN'T MAKE SENSE AWARD:
How Colorado became this bad so quickly. Following a 2 win season, Dan Hawkins is going to let his son quarterback the team. Seriously.

THE WINNER IS:
In what promises to be a tight game in the first half, Texas

pulls away from Nebraska in the second half to secure a trip to the Rose Bowl.