JOE GIBBS RETIRES AGAIN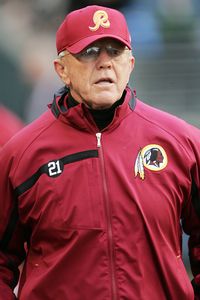 Well, that was quick. So much for "the return to glory under the leadership of Joe Gibbs" talk which took over the DC area four years ago when owner Daniel Snyder brought back the legendary coach. Gibbs has decided to step down:


Gibbs went 31-36, including 1-2 in the playoffs, after emerging from NFL retirement and his NASCAR career to sign a five-year, $27.5 million contract in 2004. He had always maintained he intended to fulfill the contract, but the 67-year-old coach wavered from that stance Monday when asked if he would return for the final year of his deal.

Gibbs' retirement brings an apparent end to a coaching career in which he twice raised the Redskins from mediocrity into a playoff team, although he failed in his goal of bringing the team back to the Super Bowl during his second stint in Washington.
It's hard for a coach to come back to the NFL after they have been out of the game for so long as Gibbs can contest. The Redskins had a rocky season due in part to the unfortunate death of safety Sean Taylor who was probably their most talented player. No reason to feel sorry for Gibbs though, he racked up over $20 million dollars of coin in his pocket the past 4 years while making the playoffs twice. I'm sure the good old boy at heart is ready to get back to sponsoring rednecks racing in circles at the ripe old age of 67. I wish him well, he seems like a really good guy.
So who will be the next coach in Washington? No idea here. Maybe Snyder will again try to grab somebody from the college ranks like Pete Carroll or Urban Meyer. I'm sure there are some hot shot NFL assistants out there waiting to get their chance too. Supposedly Redskin's assistant Gregg Williams is the leading guy according to ESPN's Chris Mortensen(take it with a grain of salt, Mortensen has whiffed more times than Adam Dunn this season with insider news).