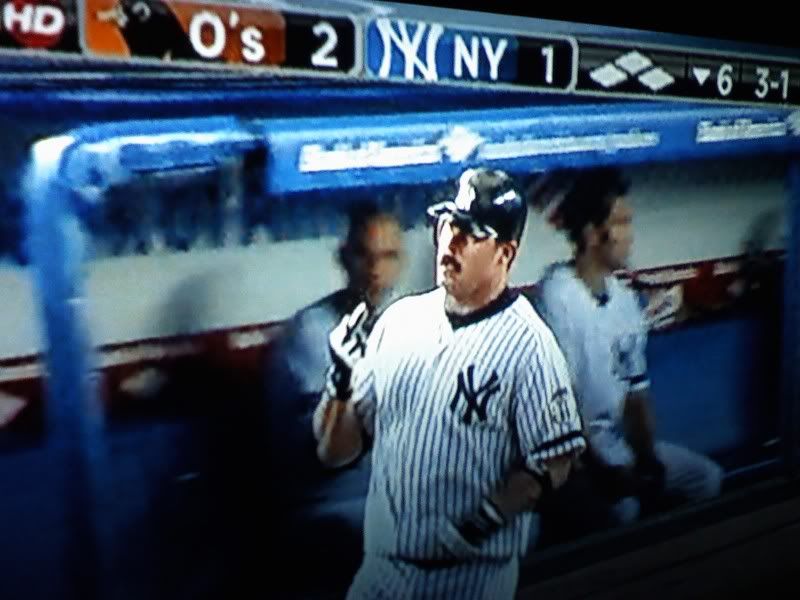 In the bottom of the sixth inning last night in Yankees Stadium the Orioles had a massive shift on Jason Giambi, aka Dirk Diggler, in which Orioles 2b Brian Roberts was basically playing shallow right field. The 70's Porn Stache smoked a ball just out of the reach of Roberts and promptly gave him the finger when rounding first base. It was Giambi's way of telling him I don't need your effing shift fellow roid boy!

The Orioles beat the Yankees again 7-6 and the Giambi/Roberts feud was more play than hate as both players laughed it off as they realized they make millions to play a child's game while I sit behind a computer eating Ramen Noodles in my boxers for the umpteenth time. Later in the game some douchebag umpire named Chad Fairchild (more than likely related) ejected Orioles pitcher Daniel Cabrera for hitting Alex Rodriguez which Fairchild must have taken as payback for the Giambi bird.

Come on Fairchild, don't be as drunk and senile as I am. The O's will go for the sweep today right after Fairchild gets done refeering a Turkish wresting match with A-Rod and Madonna. It's true, I read it in the New York Post so it can't be made up! Right guys and gals?

Here is the video footage in case you think the photo is doctored...