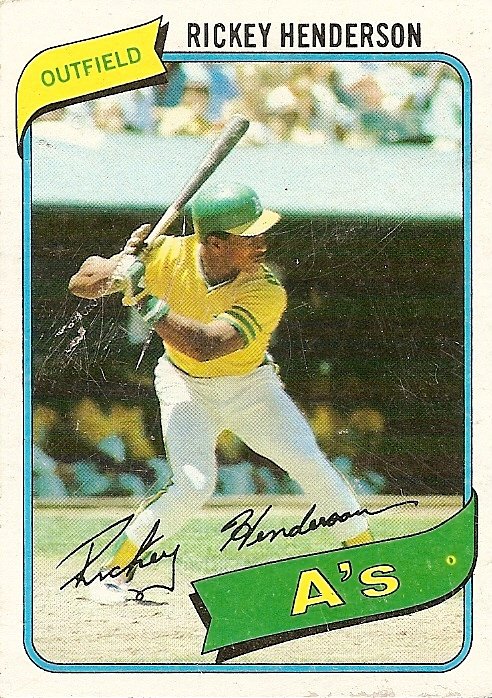 In case you were wondering when the 2009 Baseball Hall of Fame ballot was going to come out it actually came out yesterday. I know, temper your excitement and delight at the names I am about to mention because none of them deserve to be in the Hall of Fame except for one guy: Rickey Henderson.

When Rickey be Rickey is elected he will be the first left fielder to enter the Hall since 1989. Carl Yazstremski went in that year and one of his old Boston Red Sox teammates in Jim Rice is hoping to get in this ballot after just missing the election by a slim margin of 16 votes last year. You are required to get 75% of the votes and Rice has been on the ballot for what seems like an eternity. Which is exactly why he doesn't deserve to be elected. If you couldn't get in within your first 3-5 times on the ballot I don't think you should get in at all. You simply are not a Hall of Famer. It's not for the good players. It's for the great players and in my opinion Jim Rice was never a great player, just a very good one who just happened to play for the Red Sox.

Other guys who will appear on the ballot and my thoughts:

Mark McGwire-Hit a ton of home runs but is a disgrace to the game. He should never get in and the fact that he won't admit his steroid use further indicts his guilt and undeserving recognition as a great in the game. A great home run hitter but nothing more.

Harold Baines-Baines was a DH and a very good one most notably for the Chicago White Sox but he was never a perennial All-Star. I've always like Baines as a player but he was never the superstar in any lineup so he simply isn't a Hall of Famer.

Bert Blyleven-Another really good pitcher who had a solid career and won a ton of games but just couldn't reach the magical 300 career win mark which would seal his approval. It sucks for him but like Jim Rice he has been on the ballot for ages now and there is no reason to put him in now.

Andre Dawson-Dawson was a superstar player in my mind when I was a kid so I have a really tough argument against him not being in the Hall. He was basically the Vlad Guerrero of the 1980's and early 90's. Montreal totally fucked his knees in what could have been an easy Hall of Fame career but his career stats don't get him in. It's too bad because "The Hawk" was one hell of a player.

Tommy John-He was a Yankee right? Oh yeah, never mind, he doesn't deserve it. Jokes aside Tommy John should have his ligament in Cooperstown and nothing else. Just a shriveled up ligament in a formaldehyde jar with the saying "This ligament saved many careers and made billions of dollars for future pitchers in MLB history." That right there is better than some plaque. I've heard John Kruk has petitioned to get one of his nuts in there so why not John's ligament?

Don Mattingly-Donnie baseball was an absolute stud in the mid to late 80's for the Yankees but his career disappeared faster than a plate of meatballs in front of Charlie Weis. A great player for a limited amount of time, Mattingly could have easily been a Hall of Famer but his peak was too short. The definition of a very good player but not great.

Jack Morris-I will never forget this cockbag's performance against the Braves in game 7 of the 1991 World Series. He out dueled future Hall of Famer John Smoltz to win the World Series with a brilliant 10 inning pitching performance. I find solidarity and comfort knowing Smoltz will soon have his plaque in the Hall and Morris will get to look at it as a spectator for the remainder of his life as an outsider. Sorry, I'm still a little bitter about that World Series. F you Lonnie Smith. Oh yeah, not a Hall of Famer. Very good, never great except for that one game.

Dale Murphy-Besides Cal Ripken old Murph was one of my idols growing up in baseball. A two time MVP winner and Rookie of the Year, Murph had a cannon for an arm and one hell of a home run stroke. He just missed the 400 home run mark in his career when he quickly faded with the Phillies and then the Rockies after leaving the Braves. A Hall of Fame person by every means with his community work but not a Hall of Fame player in between the lines. It doesn't matter, Murph will always hold a special place in between my spokes of my old BMX bike.

Dave Parker-Not even worth discussing. Good player but never close to even having a great year let alone a great career.

Tim Raines-Rock was one of the most underrated players of his generation. One of the all-time great stolen base guys, his career was unrecognized because the majority of his great seasons came in the bleak unpopulated caverns of Montreal's Olympic Stadium. He was also under the shadow of Rickey Henderson. Both were the same type of players but Rickey is a baseball great and Raines was always a step below him. Very good player but not a Hall of Fame player. Great nickname though. Cocaine if one hell of a drug.

Lee Smith-If Goose fucking Goosage is a Hall of Famer then Lee Smith is definitely one. But the problem is I don't think Goosage is worthy of being in the Hall. Smith retired the all-time saves leader and should probably be in with this accomplishment on his resume. I have no problem with Lee Smith in the Hall of Fame to be honest with you.

Alan Trammell-A good shortstop for a number of seasons much like Nomar was but he will never get in. Sorry Alan! You and Lou Whitaker were an awesome double play combo but not worthy of Cooperstown recognition.

Ron Gant-The guy had guns and was a consistent 30-30 player but is nowhere near being a HOFer in my mind.

David Cone-Coney was a hell of a pitcher for the Mets and Blue Jays back in the day. If he would have had about 3-4 more solid seasons he would be in Cooperstown no doubt.

Mark Grace-The inventor of the slump buster story where you go out and nail the fatest thing breathing will always hold a special place in my heart but he really doesn't even deserve mention as a HOFer. His slump buster story on the other hand should be taught to minor leaguers and rookies for generations to come.

MARK GRACE WOULD TEAR THIS UP AND THEN RIP A DOUBLE


Greg Vaughn and Mo Vaughn-Both of these cousins could hit the shit out of the ball and enjoyed solid careers and made a lot of money. For some reason I just envision these guys not really caring about making the Hall and rather worrying where they are going to score their next 8 ball. Maybe that is just me though.

Matt Williams-Matty was a great third baseman there for a bit but even he admitted to using some performance enhancers which would be fine if it was for his receding hairline but not his game.

So there you go, just some of the names on the ballot this year. Rickey Henderson is a sure fire first ballot Hall of Famer. It's a shame nobody has ever gone unanimously. It's actually a crock of shit. Henderson could be one of those players who deserves all the votes but he won't get it. He was the greatest leadoff hitter of all-time. He was also the greatest stolen base king of all-time and also has scored the most runs of anybody in baseball history. He is second all-time in walks behind the fraud Barry Bonds and was named the 1990 MVP on top of being a 10-time All-Star selection. No questions asked Rickey should get in easily.

The only other person I might make an argument getting in is Lee Smith. When he retired he led all major leaguers in saves but has now been passed over by Trevor Hoffman and Mariano Rivera who are both HOF worthy themselves. I think Peter Gammons is going to whip out his chowder log and start wacking away trying to make a case for Jim Rice but please don't listen to him. If it were up to him then every single Yankees or Red Sox player who hit near .300 or played in a postseason would be in the Hall.

I'm interested in knowing what you guys and gals think? Did I leave somebody out that should get in?