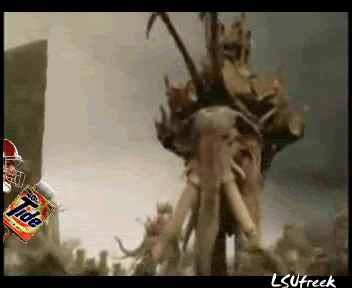 Video HT: EDSBS

Let me be not certainly the first but one of many to say the bowl matchups blow. Besides the BCS Title game the one game I am really looking forward to watching is the Poinsettia Bowl. Don't laugh. TCU is #11 in the BCS rankings and has a great defense and we all know Boise State who is #9 in the BCS can play with anybody. It's a shame these two programs got shafted into a bottom tier bowl game when they should be given the chance to play in higher payout one such as the BCS. December 23rd just doesn't sound like a date you want to be playing your bowl game on but whatever, the bowl system is corrupt.

I see for some reason the Gaytors are now 3 point UNDERDOGS to Oklahomo according to Vegas. Actually let me change my reaction. I'm completely shocked Tim Tebow would be considered an underdog in a game where he could tear apart a very suspect Sooners defense in the state of Florida. The Sooners are scoring at will but they have yet to face such an athletic and fast defense that the Gators have.

I would scoop up that 3 points and bet heavily for Florida. I'm sure that line has to change(another fucking month till they play) so if you have confidence in the Gators to beat the shit out of Oklahoma like I do right now then bet now.

I feel bad for the Texas Longhorns today. I also feel bad for Penn State, Utah, Boise State, Texas Tech and yes, even USC. All of these teams should be given a chance to play for a National Championship in a playoff system. It's a shame that two of these teams are undefeated(Utah and Boise State) and all the other ones have one loss but were not deemed worthy enough to play in a title game in which both Florida and Oklahoma have one huge L themselves this season.

What do you guys think about the matchups in the bowls? Are you excited? Could you care less and now look forward to watching the NFL where they actually play for a true champion?




At least the college presidents get off on the BCS games like John C Reilly gets off on customer satisfaction...