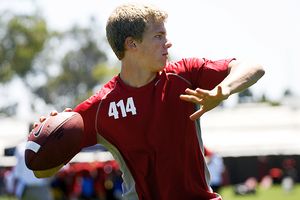 Nick Montana, a four star high school quarterback who just happens to be Joe Montana's youngest son, has turned down offers from Notre Dame, Georgia, and Ohio State to go play for...get this...hold laughter till I complete the sentence...the University of Washington. Yes, the same Huskies school that went 0-12 last season. Okay, now you can release the shits and giggles.

Nick apparently fell in love with new head coach Steve Sarkisian. Take a look at this zinger:
"He's an awesome coach," Montana said, according to the report. "You just have to look at all the guys he's put into the pros."
I guess Charlie Weis, Mark Richt, and Jim Tressel are shit stains compared to the holy throne of Sarkisian. Sarkisian was instrumental in the development of Matt Leinart and Mark Sanchez while an assistant at USC but I would hardly point him out for the one pro who has actually accomplished anything in the NFL in Carson Palmer. I think Norm Chow was more of an influence on Palmer's career. But let's be honest here, the young Montana picked Washington because of playing time. The Oaks Christian HS rising senior (same school as Jimmy Clausen) wasn't going to steal time from Clausen and Dayne Crist at ND, Aaron Murray and Joe Cox at UGA, and most certainly not Terrelle Pryor at Ohio State. So he picked Washington so he could do his own thing in beautiful Seattle and not be under the shadow of his father at Notre Dame, not face the rigorous SEC competition in Athens, and not be Tressel's clipboard assistant in Columbus.
It's understandable. Some fans of Notre Dame are freaking out. A few of them. Actually not many. Nick is a good prospect but not a 5 star standout like Clausen and Crist. I'm not saying he couldn't eventually develop into a star like his father did at Notre Dame. He has the genes and the skills to be a really good college player. But could you imagine going to a school where everybody will be comparing your every step to what your father did? It's unnecessary pressure and I can see why this Montana decided to skip out on Notre Dame (his brother Nate is a walk-on at ND). Notre Dame fans need not worry about losing this Montana. Sure it would have been a great story but the coaches need to focus on getting at least one quarterback in this class since they didn't sign anybody last year.
The kid they need to sign is Ohio product
Andrew Hendrix
. And no, he isn't Jimi's son. Hendrix is 6'3 and built like a college quarterback. He has a ton of upside and has offers as impressive as Montana. Weis needs to get him to verbal sooner than later. Hendrix visited Notre Dame last week and almost verbally committed on the spot. A lot of the top recruits are waiting to see what Notre Dame brings to the table in 2009 before committing to a school with only 10 combined wins in the last two years. They should. But landing Hendrix would enhance their recruiting ten fold. They would start picking up receivers and Hendrix could actively recruit other guys much like the
#1 prospect Chris Martin
has been doing ever since he verballed.