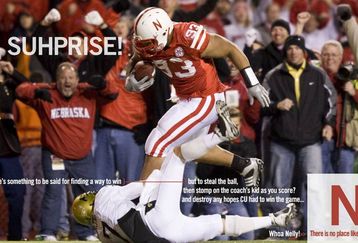 Hands down the most dominant and most outstanding player in college football this year was Nebraska defensive tackle Ndamukong Suh. A lot of people want to talk about Texas Colt McCoy, Stanford's Toby Gerhart, and Alabama's Mark Ingram for good reasons but when you look at the complete season you can not argue who was the most outstanding in every single game he played. Suh aka House Of Spears was so dominant that FanIQ took a look at his defensive stats this year and compared it to the top defensive line units for Texas, Florida and Alabama combined.


Alabama D-Line
98 Tkl, 23.5 TFL, 9.5 Sk, 20 QBH, 5 PBU, 0 Int, 1 FF, 3 Blk

Florida D-Line
112 Tkl, 33 TFL, 14 Sk, 48 QBH, 5 PBU, 0 Int, 1 FF, 0 Blk

Texas D-Line
116 Tkl, 25.5 TFL, 15.5 Sk, 10 QBH, 7 PBU, 0 Int, 2 FF, 0 Blk

Ndamukong Suh
82 Tkl, 23 TFL, 12 Sk, 24 QBH, 10 PBU, 1 Int, 1 FF, 3 Blk


Suh as an individual almost matches those entire team's defensive line units in terms of stats. Simply putting it he can't be stopped and he alone deserves to win the Heisman Trophy tonight.




SPORTSCRACK'S FINAL HEISMAN BALLOT
1-NDAMUKONG SUH
2-GOLDEN TATE
3-TOBY GERHART
4-MARK INGRAM
5-CJ SPILLER

Who do I think they will get the "Hypes"man tonight? Colt McCoy even though he isn't a top 5 QB in college football. If anybody wins it other than Suh it would be a damn shame.