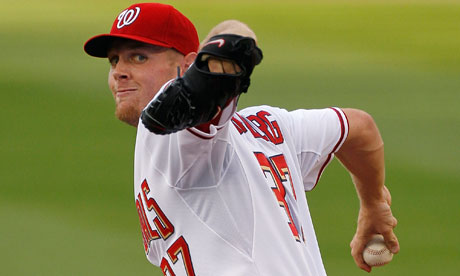 With keeping in the StrasburgCrack.com theme we got this week this story was sent in to us by loyal reader John McPeters. I thought it was worth the read. Check it out....


OK, look, maybe President is ridiculous, but I wouldn't put it past ESPN to endorse it. Call me a cynic, but let's get one thing straight, Stephen Strasburg's debut was impressive to say the least, but come one, how much hype can one kid live up to. Yes, his fastball topped at 103 MPH and he was consistently clocked at 95 MPH and above. Strasburg's change up was clocked as high as 91 MPH and his "slurve" (slow curve for those of you who are not hip to the baseball lingo) dropped another 10 MPH to 81 MPH. Simply stated… sick. Here's my issue, the kid has had 11 professional appearances before being promoted to the Majors. He's had 1 start. Let me repeat this, 1 start which was his first time pitching past the 6th inning as a professional. His first major league start was against the Pittsburgh Pirates, the perennial cellar team in the NL Central, known more for trading franchise players than hitting above the Mendoza Line. Even before his start, ESPN was practically giving away the Rookie of the Year award when he got drafted. I'm all about giving credit where credit is due, but dubbing this kid the future of baseball before his first start is a bit much. Let's be realistic for a minute, barring injury, Strasburg no doubt has the tools to become one of the greatest pitchers of all time, but what if he doesn't. I can think of quite a few "busts" with all the hype in the world who have seemingly fizzled out of the limelight.

How about "the Natural" Jeff Francouer. Atlanta's own beloved "Frenchy" was a high school legend in both football and baseball, the hometown kid tore up the minor leagues. After a big league call up, Jeff batted .300 with 14 homers and 45 RBIs in his first 70 games. Not bad for a 21 year old, actually, not bad for anyone. In his first full year, "Frenchy" played in 162 games, batting .260 with 29 homers and 103 RBIs. In his second full year, Jeff hit .293 with 19 homers and 105 RBIs seemingly cementing the hype surrounding his nickname and proving his high school legend was all but a fluke. In 2008, Jeff was sent back to the minors by his beloved hometown team to get his head right and finished the season batting .239 with 11 home runs and 79 RBIs. His poor plate discipline got him traded to the New York Mets where he has seemingly had somewhat of a resurgence, the "future face of the Braves organization" was quickly "shaved clean" after not living up to his enormous billing.

"King" Felix Hernandez was dubbed the Lebron James of baseball. Called up in 2005 after being billed as unhittable, went 4-4 with a respectable 2.67 ERA. Since then he's had one, I repeat, one dominant season. In 2008, Felix went 19-5 with a 2.49 ERA and 217 Ks in 238 innings. His combined record in just over 5 major league seasons is 61-46 with a lifetime ERA of 3.48. Not bad numbers, but my definition of unhittable would not include 3 losing seasons with ERAs in each of his season hovering around 4.00. I'm not faulting Hernandez at all, he's definitely become a solid pro pitcher, but his career numbers do not live up to the hype that was.

If you want to cross sports, let's talk football, Jamarcus Russell, Ryan Leaf, Heath Shuler, Lawrence Phillips and Brian Bosworth, just to name a few consensus busts with all the hype in the world. How about Alexandre Daigle, the #1 overall pick in the NHL draft in 1993 who tallied a whopping 74 goals in 200 games before being traded to a less than stellar career. How's that for the next "Great One"? Darko Milicic was the #2 overall pick in the 2003 NBA draft. I'd be willing to bet a lot more than my life that the Pistons wish they wouldn't have passed on Carmello Anthony, Dwayne Wade, Chris Bosh, or Josh Howard, instead of taking Milicic who rode the bench for an incredible career span of 3 years. I would go into Tennis and talk about how Anna Kournikova was the #1 Women's Junior player and has never reached further than the semi-finals in any grand slam event, but she's so hot that no one really cares about her athletic ability. Besides, I bought a Cannon, and I can assure you, it wasn't because of the talking dog in the commercials.

For every single Lebron James, there are at least a dozen Kwame Brown's. I'm not saying Stephen Strasburg isn't going to have a stellar pro career and be an exception to the rule, simply saying before we dub him the next coming of Jesus Christ, at least let the guy fill every cup in a sold out stadium full of beer for an entire 9 inning game from a single keg, hover to the mound effortlessly without his feet touching the ground, and throw lightning bolts from his finger tips as the ball is released from his hand. Did the Nationals provide baseball with a shot in the arm when signing Strasburg? Of course, and hopefully, "the Phenom" will attract more fans to the sport I've come to love. Let's just hope Strasburg doesn't give baseball fans everywhere the "Barry Bonds treatment", opening everyone's eyes in the immediate future and letting a nation of devoted fans down once reality sinks in. So before we concede the Cy Young, MVP, Rookie of the Year, All Star, and Hall of Fame achievements to Strasburg, all of which he will seemingly accomplish after his second start in the MLB, let's let the kid enjoy his time and actually earn all of the praise. As a final thought, I'm casting my vote for Bryce Harper on my 2010 Heisman ballot. After all, isn't Harper's immense talent the real reason why Tebow was crying during his final game at Florida?
Honestly I could not have said it myself better. Thanks John for the email! Oh yeah, I hope everybody is ready for the "Terrelle Pryor for Heisman" hype that ESPN will be spouting off this college football season. I mean after all he was the #1 prospect out of high school so we have to hype him as the next great phenom right?