Now that is what I was talking about yesterday. The Cardinals and the Reds just now officially moved into a heated rivalry worth talking about. Brandon Phillips opened the floodgates the day before with his "little bitches" comment and the Cardinals responded when Cardinals catcher Yadier Molina (most overrated catcher in the game) did not take kindly to Phillips before the first pitch was even thrown. Phillips hit Molina's shin pads with his bat (Phillip's ritual which is bull shit anyways) and Molina flipped out. Of course Molina being the pussy he is didn't throw a punch. He just started screaming at him and then of course the benches cleared and a whole bunch of pushing and shoving and crying ensued.

Eventually ordered was restored and the only ejections were the managers. Tony Larussa and Dusty Baker have a history that dates back to 2000 in which both guys have had heated exchanges. This was no different. And you know what? This is great for baseball. Right now is about the time people like myself start to forget about baseball because football is right around the corner. The major network and MLB love to shove that AL East rivalry down our throats and talk about it like it is the only thing that matters. Clearly it doesn't. And now with the Reds and Cardinals feuding for first place in the Central it's bound to get more interesting and we can actually focus on other teams. It shows the fans that the players care and it was great seeing Scott Rolen (future Hall of Famer) muck it up with ex-teammate Chris Carpenter. This is what rivalries are about. No more buddy-buddy bull shit. It's about fighting till the last pitch.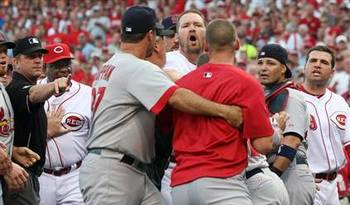 As much as I loathe Molina (the guy just gets on my nerves for some reason) I was actually smiling when he hit the home run yesterday. You could see how much it pissed off the Reds team and you could also see how good it felt for Molina with his slow trot around the bases which was very Phillips-like. This is good theater my friends. Finally.