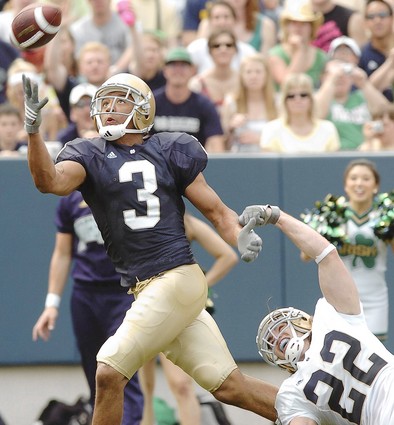 Because there is no fucking logical reason why he failed to mention Notre Dame WR Michael Floyd in his top 5 receivers for his annual "Herbie" Awards...

1. A.J. Green, Georgia
2. Ryan Broyles, Oklahoma
3. Jon Baldwin, Pitt
4. DeAndre Brown, Southern Miss
5. James Rodgers, Oregon State
I have no argument with A.J. Green being #1 because he is the best in the nation but Michael Floyd deserves to be up in the #2 or #3 slot. Floyd is a fucking monster who will eat your children Herbie. I really hope the coaches and players show Floyd this list to fire him up even more. The only reason I can possibly come up with the utter disrespect by pretty boy Herbie is that Floyd has a tendency to get hurt. He missed 5 and a half games last year and still nearly put up 795 yards receiving with 9 TDs in only 6 full games. Nobody can stop Floyd except himself.
Come on Herbie. Put down the paint chips and fucking wake up. Floyd next to A.J. Green are the two most dominant receivers in the college game. Show some respect Buckeye.