For what should be a glorious season. The Fighting Irish are 11 point favorites tomorrow against Purdue. It's at home. They should cover. Notice I said "should."

My expectations for Notre Dame are even tempered. I know they will have a much better team than last season since they have their first legit college head coach in Brian Kelly since Lou Holtz was pushed out of South Bend. But I also know Notre Dame went 6-6 last year and decided not to play in a bowl game. The fact that they decided not to play still really pisses me off. The year before they went 7-6 and of course in 2007 they were a complete disaster at 3-9. It's been an awful and depressing 3 years to be honest.

Like some of you I literally live and die with how the Irish play in the fall. I know it's sad but it's just a fact of my life. With that being said I think we are in for a very pleasant season. The Irish will score more points this season. They are going to average over 40 a game and will put 50 on the board at least twice. No more laying the foot off the gas like Charlie did. BK is going to push his starters and backups to their best and will never tell them to lay down to an opponent. You play 60 minutes hard or you go fucking home and somebody else will replace you.

New QB Dayne Crist will have an amazing season. He's going to complete a high percentage of his passes because the spread offense will be lethal with weapons like Michael Floyd (1st team AA), Theo Riddick (Golden's replacement who will be an instant fan favorite), TE Kyle Rudolph (1st team AA), and a slew of backs led by senior Armando Allen and breakout sophomore Cierre Wood. Crist is going to make people forget about JC and Brady real quick. He's a leader and the unofficial captain.

The defense is the part where I'm most skeptical. It's been atrocious for too long. Guys have looked out of place and have been pushed around for what seems like centuries. This will hopefully change starting tomorrow. What I do know is that Manti Te'o is the best defensive player to put on the Blue and Gold since the Holtz Era. He is the Hawaiian Hitman for a reason. He kills people.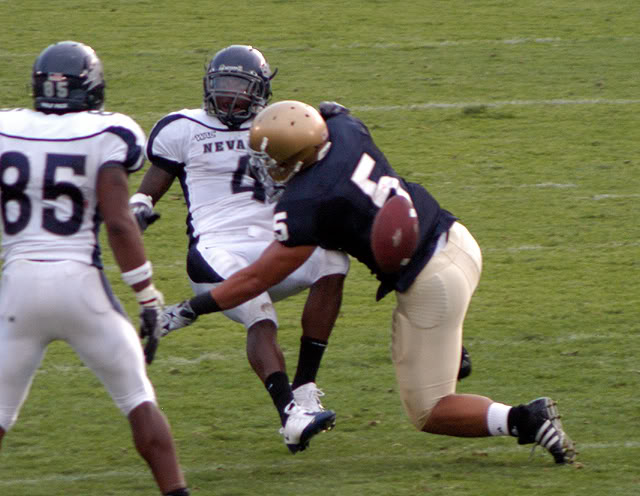 His new friend at inside linebacker is Carlo Calabrese. The Italian Stallion is what I call him. He loves to hit. He will be a mack truck tomorrow. The linebacker group as a whole will be extremely fun to watch all season. My worry is the defensive line. I know KLM is going to be a stud and I have confidence in Ian Williams being a plug in the middle but for the defense to reach it's potential they need Ethan Johnson to live up to his billing coming out of high school. Ethan needs to be Justin Tuck. He needs to get to the quarterback and knock him out. No more soft Ethan. I want hard nosed, take no bull shit Ethan. If they get that the Irish could go undefeated. I'm not even bull shitting. The secondary will be better than people think. Corners Darrin Walls, Gary Gray, and Robert Blanton are legit cover corners. Safety Jamoris Slaughter will bring the man"Slaughter" every Saturday. He can flat out hit and he is probably my second favorite player on D behind Te'o. He'll play on Sundays. Not a doubt in my mind. Harrison Smith has been mostly down since arriving in South Bend. He will step up big time this season. He's too much of an athlete not to do it his senior season.

So what do I expect record wise this season? 10-2. They went 6-6 last year but easily could have been 12-0 with any semblance of defense, coaching or leadership. I think they get all three of those things missing from last year. There will be a couple of hiccup games and I think it will be Michigan State or Stanford and then Utah or USC. By the way USC looked awful last night. It's actually the worst they have looked since 1999. The tides have turned.

The Kelly Era will begin starting tomorrow. It's time to start smiling and laughing after the games are over on Saturday. No more playing down to their competition for the Irish. Brian Kelly asked his players "ARE YOU IN?" during the Spring. They will be and show it tomorrow by destroying Purdue.

Go Irish!

Prediction: Notre Dame 38 Purdue 17