Notre Dame just picked up the biggest commitment they could for the 2011 season. Standout Wide Receiver Michael Floyd announced he would be coming back for his senior season.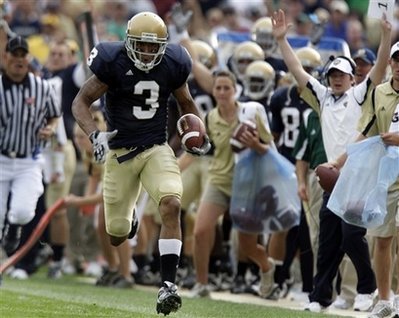 "This was one of the toughest decisions I have ever had to make in my life," Floyd said. "On the one hand, there was Notre Dame. This place has been an incredible home to me and the relationships I built here are ones I know I'll have for the rest of my life. On the other hand, there was the NFL. It has always been a lifelong goal to play football at the highest level and that is something I look forward to doing at some point. However, I'm pleased to say I will be returning to the University of Notre Dame for my senior season in 2011.

"I'm returning to Notre Dame for three reasons: to earn my degree, return Notre Dame to the top and improve myself as a player. First, I promised my mom I would graduate from Notre Dame and I am 40 credit hours shy of attaining that goal. I chose to attend Notre Dame in part because I knew it was a 40-year decision and not a four-year decision. Graduating from Notre Dame will help me for the rest of my life. Second, I want to get Notre Dame back to a BCS game. I believe we are very close to returning the Irish to where we belong and I want to be part of something great. Lastly, I want to show everyone in the country that I'm the best wide receiver in college football in 2011. There are many things I need to improve, but I feel with the coaching I have at Notre Dame, I can become the best at my position in this game."

Michael Floyd
As I've already mentioned before this is huge for Notre Dame and Floyd himself. Notre Dame has a legitimate shot at a BCS Bowl game next year with Floyd back. Floyd also has an outstanding shot of improving his draft stock and entering the 2012 NFL Draft with a much weaker group of wide receiver class entering. This is a huge win for the Notre Dame football program and it's basically better than landing a 5 star recruit. Floyd is a beast of a football player and will have a huge senior season in 2011.