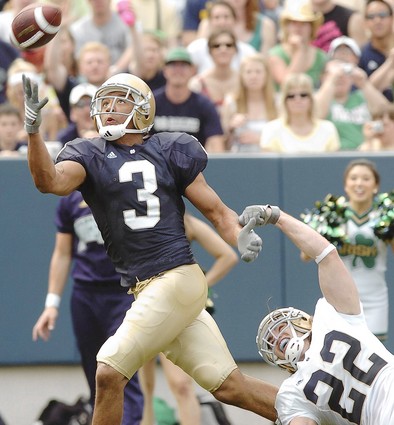 At least he is giving those hints on his Twitter account...



@IWilliams95 Yo all Ian think he hot shot cuz he going to the league screw u
15 hours ago Favorite Retweet Reply

floyd3 mike floyd
My dawg Henry @GaryGray4ND happy birthday may more 1 on 1s happen n the future hehe
6 Jan

floyd3 mike floyd
@krudy9 damn u gone forever:( goodluck
5 Jan

floyd3 mike floyd
@
@bnewman99 @GaryGray4ND the game is still well played by many of us your just mad u don't know how to play
5 Jan

floyd3 mike floyd
Decisions......decisions...
4 Jan

Right now according to most draft boards A.J Green, Julio Jones, Justin Blackmon, Jonathan Baldwin, and Torrey Smith are ranked ahead of Michael Floyd at the wide receiver position. Most projections have Floyd going late 2nd to 3rd round.
In other words: Please God let him stay at Notre Dame for his senior season.
Sincerely,
Notre Dame Nation