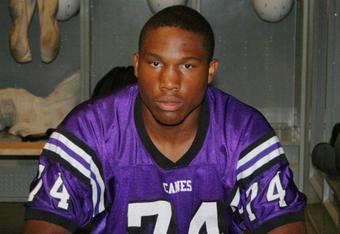 48 hours ago five star defensive end Stephon Tuitt was a Notre Dame commitment. 24 hours ago he was a Georgia Tech commitment. And now? Apparently he is back to being a Notre Dame pledge after the Notre Dame staff led by Brian Kelly flew down to Atlanta to talk to his mom and Stephon.


The five-star defensive end from Monroe Area High School, who flipped from the Fighting Irish in order to commit to Georgia Tech on Tuesday, confirmed to the AJC late Wednesday night that he flipped back to Notre Dame. Elapsed time on the de-commit/re-commit: About 30 hours.

"What a day!" Tuitt said.

Tuitt said he had a change of heart after Notre Dame head coach Brian Kelly and several defensive coaches made an in-home visit Wednesday night.

"They just told the truth," he said when asked what changed his mind. "They didn't say anything negative about Georgia Tech or anything like that. They just told the truth about what Notre Dame could do for me and what I could do at Notre Dame.."

Tuitt said he "had a few questions I needed to get off my chest." Asked what those questions were, he said, "just some little things and some big things. I had some questions about the class they have coming in and some about the school and some about the coaching staff. Things like that."

Afterward, Tuitt said he and his mother re-affirmed his commitment to sign with Notre Dame on national signing day. Then he called Georgia Tech head coach Paul Johnson.

"It was terrible," Tuitt said of that phone call. 'He was disappointed. He said he knows it's a business. I don't think he was mad at me necessarily, just very disappointed. He's a great coach and Georgia Tech has a great future. It's just going to be without me."

Asked whether there was any chance he might change his mind again, Tuitt said no. "I should be solid to signing day."

Tuitt's mother, Tamara Bartlett, was clearly a catalyst in the decision.

"I never changed my mind in the first place," she said of her son de-committing to Notre Dame. "Stephon did. The reason he was wavering back and forth all boils down to him not wanting to hurt anybody's feelings. He had developed relationships with all these coaches and didn't want to disappoint them. But somebody's going to have to be disappointed and today it's Georgia Tech. Tomorrow it's going to be Georgia Tech and the next day it's going to Georgia Tech because recruiting stops now."

For his part, Tuitt went out of his way to praise Georgia Tech and its football program.

"To be able to go to Notre Dame is just a special opportunity," he said. "Georgia Tech is also a great school; that's why I was second-guessing. I love Georgia Tech and their coaching staff. But this is a life decision."
As you can tell this is far from over. Right now Notre Dame is in the lead with Georgia Tech trailing. It's the final lap. Can Tech pull off the miracle? At this point nobody knows. Not even Stephon Tuitt.