The biggest question going into this spring for the Notre Dame football program was who would earn the starting quarterback position going into the 2012 season? If you watched last season you clearly see the difference between Notre Dame being a 11-2 or 12-1 BCS team and instead finishing a disappointing 8-5 again last season were the obvious deficiencies in the quarterback position. Last season Dayne Crist, Tommy Rees, and Andrew Hendrix all did one thing that held Notre Dame's program from being elite: they turned the ball over.

Crist was suppose to be the next Brady Quinn. He looked the part and had the size, smarts, and charisma to become "the guy." Unfortunately multiple knee injuries and a "deer in headlights" performance when big situations were needed from Dayne prevented him from reaching his potential. Crist was benched after a horrific first half against South Florida in the first game. Crist has now transferred to Kansas to finish out his career.
Sophomore Tommy Rees replaced Crist in South Florida and despite having some good moments (led a spirited 2nd half comeback vs USF) he quickly earned the nickname "Turnover Tommy." Rees is the least talented of all the returning QBs on the roster but he has the best knowledge of the playbook which in head coach Brian Kelly's mind gave him the leg up last season. Rees also has the most experience with 16 starts under his belt.

But let me be perfectly clear on one thing: if Rees starts next season the Fighting Irish are in serious trouble. I like Rees but his limitations are obvious: he doesn't have a strong arm and he folds quicker than origami under pressure because he is extremely slow footed. He also had 14 interceptions, tons of lost fumbles, and got sacked not because the offensive line brokedown but because he has the escapability of a blind snail. So honestly if Rees starts vs Navy in Ireland you should be very afraid if you are a Notre Dame fan because it's going to be a very long and tedious season.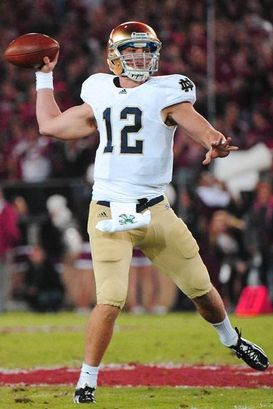 Which brings us to the other 3 guys vying for the starting position. Let's start off with Andrew Hendrix. Hendrix will be a junior academically and has a much stronger arm than Rees. He also can tuck the ball and run and in his limited playing time nearly racked up 200 yards on the ground including a 78 yard scamper vs Air Force. Hendrix threw only 37 passes last season but from what I saw he definitely had better zip and threw a much tighter spiral with a quicker release than Rees. The only problem was like Rees he is a turnover machine and it never seemed like he was in control of the offense. If Hendrix is starting in 2012 I would also be very afraid of the consequences.

Which leads us to the two guys who have yet to take a snap for Notre Dame: redshirt freshman Everett Golson and true freshman Gunner Kiel.


First of all let's talk about Kiel. Kiel is the nephew of Blair Kiel who was a star QB back in the early 80's at ND. Gunner is also the #1 prep quarterback from last season and the most highly recruited since Jimmy Clausen arrived in a limo 5 years ago. Gunner has great mechanics and has the body to start right away. What he doesn't have is the experience or the respect from the other players to be given full confidence as a starter from coach Kelly. No true freshman should be expected to start in major collegiate football and the best thing for Kiel and the program is to be on the red hat brigade on the sidelines and learn by watching.

So that leaves us with who I think is the best option: Golson.
Golson enrolled early at Notre Dame last season and while he didn't see any gametime during his freshman season he did earn Scout team MVP. If you have had the chance to watch Golson in high school down in South Carolina the first person I thought of when seeing him make spectacular throws and eluding the defense while playing some really good competition in the Palmetto State was former Heisman Trophy winner Charlie Ward of FSU. Just like Ward Golson isn't a big guy (generously listed at 6 foot 185 but more like 5'10 175) but he ran a spread offense in high school that used his natural abilities of quick release, strong arm, accuracy of throws and the ability to tuck and run to the best of his abilities. He won multiple state championships in football and also won them in basketball as the starting point guard. Can you see the similarities with Ward who also won in the NBA? The only thing that separated Golson from being a 5 star can't miss prospect coming out of high school was a couple of inches in height. In college it won't matter.

From what I have been hearing from current players on the roster and some who have gone on is that Golson is THE MAN. I've also heard that Coach Kelly knows this and the reason why the QB position is still wide open (according to what Kelly gives the media) is because he doesn't want anybody to transfer going into the fall. This is obviously a smart move since injuries do happen. But make no mistake Golson is the best QB for Notre Dame right now. I've heard he is perfectly suited for Kelly's spread attack offense and despite having some struggles picking it up last season during a difficult transition year being a freshman his knowledge and more importantly his confidence have risen exponentially. Golson keeps his head on a swivel and also downfield at all times even when pressured. You would think with his athletic ability he would be looking to run first when given the chance but Golson keeps his eyes towards his X, Y, and Z targets and delivers a great ball for his receivers to make plays in the open field.

2012 will hopefully be the year of the Mt. Everett. In order for Notre Dame to get back to reaching the pinnacle of the college football landscape they are going to need Golson to be the leader and show them the way. And much like Charlie Ward with what he did while at FSU I think Golson will be the guy come game time in Dublin.

Go Irish!