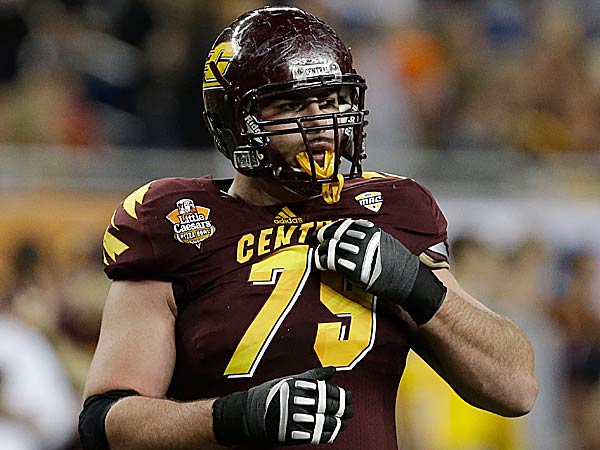 This is just for shits and giggles. Plus I wanted to see how my mock NFL Draft would compare to Mel Kiper and Todd McShay when all is said and done tonight.
1. Kansas City - Eric Fisher. Everybody has the Chiefs taking Luke Joeckel so I'm going with a mild upset pick here in Fisher. Both of them graded out the same according to scouts and I've heard head coach Andy Reid wants Fisher more than Joeckel. We will see. 2.
2. Jacksonville - Luke Joeckel. The Jags will go with the future left tackle only because KC didn't take him.
3. Oakland - Sharrif Floyd. Oakland would love to get their hands on either one of Fisher or Joeckel but since they are gone they go with the defensive tackle from Florida.
4. Philadelphia - Geno Smith. The Eagles need a QB in the worst way. Geno appears to be the best guy in a horrible QB draft class.
5. Detroit - Lane Johnson. Gotta protect Matthew Stafford.
6. Cleveland - Dion Jordan. Overrated in my opinion he should be a great fit in Cleveland for that god awful franchise.
7. Arizona - Star Lotulelei. This is the one guy in this draft who is a can't miss prospect if he stays healthy. Star is a dominant force and is a great pick for the Cardinals.
8. Buffalo - Matt Barkley. Even though I don't think Barkley is a first round talent I can see Buffalo taking him. Mark Sanchez 2.0.
9. New York Jets - Ezekiel Ansah. He had a great Senior Bowl performance and has shot out of nowhere to get drafted top 10. I'm sure the boo's will be loud and plenty with this pick.
10. Tennessee - Dee Milliner. Once considered a top 5 lock Milliner slides down to the Titans because of the 5 surgeries he has already had. This pick has bust written all over it.
11. San Diego - Jarvis Jones. SacMan Jones reminds me a little bit of Shawne Merriman.
12. Miami - Jonathan Cooper. The Dolphins need inside blocking help and Cooper seems to be the best available.
13. New York Jets - Tyler Eifert. Eifert is the best tight end to enter the draft in a couple of seasons. The only question is who will be throwing it to him?
14. Carolina Panthers - Tavon Austin. Just a gut feeling the Panthers make a risky pick here to get someone for Cam to throw it to.
15. New Orleans - Barkevious Mingo. The Saints need a DE for their new 3-4 defense. The local product should be a fan favorite.
16. St. Louis - D. J. Fluker. Gotta protect Sam Bradford. They could also go Chance Warmack here.
17. Pittsburgh - Kenny Vaccaro. Vaccaro will eventually replace the hair guy in the secondary.
18. Dallas - Chance Warmack. The Cowboys offensive line is in shambles.
19. New York Giants - Xavier Rhodes. The Giants need corners in the worst way. Rhodes is the best one in this class in my opinion.
20. Chicago - Alec Ogletree. Ogletree has many off the field issues but his talent outweighs it. He should be a great fit in Chicago.
21. Cincinnati - Eric Reid. They should take Matt Elam with this pick but from all indications the Bengals staff loves Reid.
22. St. Louis - Sheldon Richardson. Big time steal here for the Rams with Richardson who should start right away.
23. Minnesota - Ryan Nassib. I know this pick makes little sense but does anybody honestly think Christian Ponder is the answer in Minnesota? The Vikings go out on a limb again and pick a QB.
24. Indianapolis - Datone Jones. The Colts need defensive line help and Jones appears to be the best one left on the board.
25. Minnesota - Manti Te'o. Pretty much everybody has the Vikings taking Te'o here and I agree with it. Te'o will be a great fit in Minnesota with a locker room already filled with Golden Domers.
26. Green Bay - Tank Carradine. The Packers need to get younger on the defensive line. Tank should work out just fine.
27. Houston - DeAndre Hopkins. The Texans should take Robert Woods here but instead go with Hopkins.
28. Denver - Sylvester Williams. The best defensive lineman available and the Broncos lost Elvis Dumervil so this kind of makes sense.
29. New England - Desmond Trufant. The Patriots are old in the secondary and Trufant should start right away at the very least in nickel coverage.
30. Atlanta - Jamar Taylor. If the Falcons don't trade up to get either one of Rhodes or Milliner at CB then they settle for one of either Trufant and Taylor at #30 pick.
31. San Francisco - Bjoern Werner. The 49ers add some depth to the defensive line with an underrated beast.
31. Baltimore - Matt Elam. The biggest steal of the first round goes to the Ravens with Ed Reed's replacement in Matt Elam. Elam is a ball hawk who should turn into a star defender for the Super Bowl Champs.