The Daily Dump is SportsCrack's review of the day before today while sitting on the porcelain throne, sometimes painful, sometimes oh so sweet...

MLB
-The Reds have finally decided to call-up superstar prospect Jay Bruce for tonight's game against the Shitsburgh Pirates. It's about fucking time!
Bruce has been destroying AAA pitching this season and has little if anything left to prove in the minors. The Reds outfield of Adam Dunn, Ken Griffey Jr., and Corey Patterson has been weak all season so I'm not sure what the hold up was in keeping Bruce down at Louisville. Bruce will more than likely start tonight in centerfield which means once prized Cubs prospect Corey Patterson could be getting his release papers today. At least this now gives me a reason to watch the Reds play tonight against the lowly Pirates on the MLB package.

-Speaking of rookies, Los Angeles Dodgers pitcher Clayton Kershaw made his MLB debut
the other day against the St. Louis Cardinals and was extremely impressive for a 20 year old. The 6-foot-3 lefty walked one, gave up 5 hits, and struck out 7 while giving up 2 runs in 6 innings of work. His fastball was hitting 96 while his breaking ball was buckling knees while hitting the mid 70's. When the Orioles were talking to the Dodgers to see what kind of interest they would have with Erik Bedard during the offseason the main prospect the O's were interested in was Kershaw. It appears from a distance the Dodgers made the right move in keeping Kershaw. He has future ace written all over him. Plus he replaces Jason Schmidt in the rotation because the old man can't take a shit without going on the disabled list.

-Chase Utley drove in 6 runs in a 20-5 rout over the Colorado Rockies. The Phillies are starting play good ball but what in the hell happened to the Rockies? They sit at 20-31 and look like they will suck balls all season. I guess their magical mystical run to the World Series last season was just that. Their pitching is pathetic and their offense is non-existent without Holliday and Tulowitzki in the lineup. Clint Hurdle needs to work on his constantly red alcoholism face by chugging more Jack in the dugout, it's going to be a long season in Denver.

-Damn, Brandon Webb might now lose 9 in a row. Webb suffered his second straight defeat yesterday in Atlanta after winning his first 9 games. Of course his defense didn't help him as 3B Mark Reynolds committed his 9th error of the season thus leading the Braves to another easy home victory and a split of the 4 game series. Severna Park native and hopefully future O's player Mark Teixeria collected 4 RBI's as the Braves improved to 22-7 at home while sitting tied with the Phillies for second place in the National League East.

-Finally Nick Markakis

broke out of his your "slowly killing Fairchild to death slump" yesterday by clobbering a homerun while going 3-4 against the hated New York Yankees in helping rookie Garrett Olson pick up his 4th win of the season. Hopefully the "confidence booster" of yesterday's performance will help Kakes reestablish himself as one of the top young talents in the game. His strikeout ratio has been alarmingly high and either he needs to make some adjustments in his long stroke or hitting coach Terry Crowley needs to be fired asap. With the way the O's have been hitting all season, or shall I say lack of hitting, I think Crowley needs to get the pink slip now.

NBA
-The Pistons beat the Celtics to even the series at 2-2. An interesting point my wife made to me last night while we were watching the game, she thinks the Pistons are a better team because they have set plays while the Celtics pretty much hand it to either Garnett, Pierce, or Allen and tell them to do their thing. She has a good point and I think the Pistons will win game 5 in Boston. Mark it down because as marriage is teaching me, never, ever, disagree with the old lady. Now excuse me while I go wash out the sand out of my vagina.

NHL
-What in the holy hell has happened to the Pittsburgh Penguins? They have been shut out twice by the mighty Detroit Red Wings and even their goaltender Marc Andre Fleury is choking while trying to run out on the ice...

Graceful, isn't he? Evgeni Malkin and Marian Hossa have been non factors so far for the Penguins and unless both of them step up quickly there is a good chance they could get swept. If you smell a faint odor of pooh it's a good chance it's from the NHL commissioner's box after seeing his poster boy in Sidney Crosby being held without a point in the first two games on the biggest stage.

NFL
-Vince Young
almost quit after his rookie season in order to party shirtless with a bunch of dugans. The picture on the right is of him partying in the meat packing district while sweating profusely because Madonna's latest with JT is off the hook. If you don't think Young is bringing back the queer while roping the steers in Texas well then you haven't been listening to him...
"I really thought long and hard about it," Young told the Web site.
Only porn stars, catholic girls, and gay men think about things long and hard. And to top it all off Young had these priceless quotes...
"I have a stronger circle," Young told the Web site. "Now I can handle this kind of stuff without it making me want to give up football. I learned that 24/7 I'm representing the Titans and, especially, the kids all over I am trying to influence. I look at my man Michael Vick. I learned from that. I look at Pacman [Jones]. I learned from that. I look at some troubles recently for rappers T.I. and Lil Wayne, guys I listen to. I learned from them. I've learned from my life."
What about George Michael and Pee Wee Herman? It's only a matter of time before Vince in caught rubbing one off in a urinal with some other dude. In fact Vegas should start taking action on it.
-Tony Romo is still dating, or shall I say shagging, Jessica Simpson. But Tony might want to watch his back in case some other drunk dude decides to make a pass...
It rubs the lotion on its skin or else it gets the hose again.
COLLEGE FOOTBALL
-Steroids and HGH do a body good. Especially a linebacker named Brian Cushing who just happens to play at USC...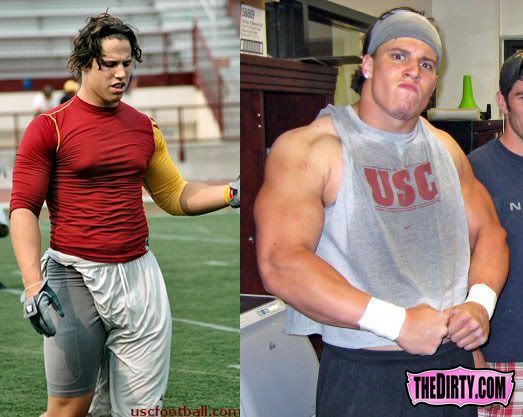 Cushing is from New Jersey originally
(Jagerbombs, Jagerbombs!)
and the first picture on the left is him off the juice with a serious set of man boobs. Think of Meatloaf in "Fight Club." Now he is back on the juice. Think of Sylvester Stallone in everything. It's just a matter of time before Latimer, I mean Cushing, grinds on some girl and throws her across the room because "she was leading him on!"