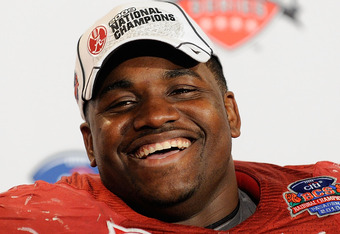 The defending National Champions learned today that one of their star lineman has been ruled ineligible for the 2010 season due to a party he attended in Miami which he was hosted by a NFL agent. Star defensive end and future NFL first rounder Marcel Dareus has a lot of questions to answer to the NCAA and until he does it he will not be eligible to play according to the Tuscaloosa News.

University of Alabama defensive end Marcell Dareus has been declared ineligible and is believed to be the only UA player who attended a party in Miami hosted by a sports agent, a source close to the situation told The Tuscaloosa News.

UA will petition immediately for the reinstatement of Dareus' eligibility. The NCAA will make the ultimate ruling on when, or if, Dareus will be reinstated. It is standard procedure for a player to be declared ineligible immediately whenever a question of whether the player violated NCAA rules arises.

UA is conducting an investigation into whether Dareus paid his own expenses for the
trip, and whether the circumstances of the trip constitute an NCAA violation. Under NCAA rules, student-athletes are not permitted to accept cash or anything of value from sports agents or their representatives.
Between the recent NCAA hammering of USC with the Reggie Bush scandal and the investigation into North Carolina's Marvin Austin and South Carolina's Weslye Saunders attending the same party as Dareus it is clear that the NCAA wants to eliminate these rogue agents who pay football players before they declare for the draft. NCAA rules state you can not accept gifts or money of any kind from sports agents as a student-athlete or you will be ruled ineligible. The players know the rules so it's not completely the agent's fault for breaking the rules.
What the NCAA and the NFL need to do is start identifying these NFL agents who violate the rules and give them suspensions from representing any future clients for at least 1-3 years. I think this would help curtail some of these ongoing issues with agents ruining a player's eligibility.
Losing Dareus would be a huge blow for the Crimson Tide. Coming off a team leading 6.5 sacks last year, the rising junior is expected to be a top NFL draft pick if he does come out early. He was the defensive MVP of the BCS National Championship game as he took an interception to the house last year....
He also was responsible for taking Colt McCoy out of the game with this hit...
The Tide have depth but Dareus is one of those guys no team can simply replace. He is fast, big, and extremely athletic for a man his size (6'4 306 lbs) and creates havoc in Bama's 3-4 defense.
Of course head coach Nick Saban is about to go postal with the thoughts of losing his star defensive player. He compared these rogue
sports agents to pimps today at the SEC Media Day.

"How are they (agents) any better than a pimp?" Saban asked.
Not sure I see the relation but okay. I would love to see Saban go ape shit on some agent who gets near his practice field. Until then we can only pray more football players don't make the mistake of taking money. Chances of that happening are not good.
Picture via
Getty Images