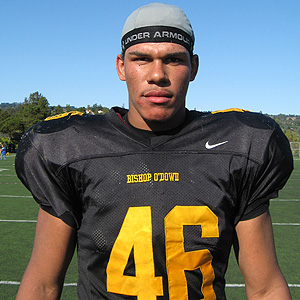 In yet another chapter in "The Curious Case of Prep LB Chris Martin" saga comes today's news that he has again decided to transfer. This time he will leave Cal-Berkeley after only two weeks on campus to go play for the anxiety riddled Urban Meyer and the Florida Gators. This should get even more interesting.

A day after he notified the University of California about his intent to transfer, former Grandview High School linebacker Chris Martin announced Wednesday he will be heading to the University of Florida.

Cal coach Jeff Tedford announced the transfer decision of the 6-foot-5, 245-pound linebacker on Monday, saying he supported the choice of Scout.com's top-ranked outside linebacker who had more than 100 tackles, 11 sacks and five forced fumbles in 2009 for Grandview.

A day later, Martin made his choice of Florida public on his facebook page, saying: "I would like to thank everyone who has been supportive of me through my crazy mental episodes. A special thank you to my mother and father who have supported me no matter what. I love you both. God has granted me a second chance. A chance I cannot mess up. With that said. Go Gators. Thank You to everyone and all the coaches who showed their interest in me."

In the past 6 months Martin has gone from Notre Dame (verbal commitment non binding) to enrolling at Cal to now transferring to Florida. In high school he transferred from his original Oakland California high school after three seasons to the Hunn School in New Jersey for his senior season only to transfer shortly after to another high school in Aurora, Colorado where he graduated but surely would have transferred again if given the option (a joke but not really). So in the space of a year he has transferred or changed his mind on schools 5 times.
Sounds like Martin is of stable mind. 18 year old kids can be known to change their minds as often as they change girlfriends but the Martin case is puzzling. It sounds like the kid has no idea what he wants. He may have all the talent in the world (#1 rated outside linebacker) and any school would love to have him on their roster but I'm not sure his flakiness is worth dealing with. You have to wonder if he will even stick in Gainesville.
I have my doubts.
Picture via
ESPN