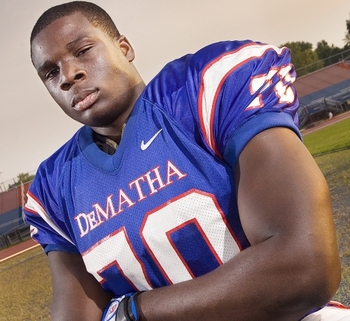 The #1 offensive tackle in the nation, Cyrus Kouandjio, still has no fucking clue where he wants to go to college just a day after he declared he would be going to Auburn. The 6'7 322 lb DeMatha, MD tackle prospect has supposedly narrowed his choices to Auburn, Alabama (where his brother plays), and Iowa. Iowa? Don't laugh because yesterday the kid was still heavily considering New Mexico (they won 1 game last year).

To say this kid is confused would be an understatement. I've heard reports he had a hard time choosing between waffles and pancakes this morning. Maybe he wanted to throw some exotic in there for breakfast like huevo rancheros. His father told TideSports.com there will be no announcement till Friday at the earliest.


"If he makes a decision today, you will have it tomorrow in the morning," Jean Claude Kouandjio, the father, said. "He's still confused. We keep talking with him, I don't think he's ready yet. He's the one that who wants more time."

"He's deciding between Alabama, Auburn and even Iowa. It may even come back to Iowa. He's considering his options even more now. Those three (schools) have been floating in his mind"
The fact that Iowa just attempted to kill 13 of their football players I guess is no reason to mark them off the list. If I had to take a guess I think he sticks with Auburn. The pay is just too good especially with the incentive clauses in his contract.