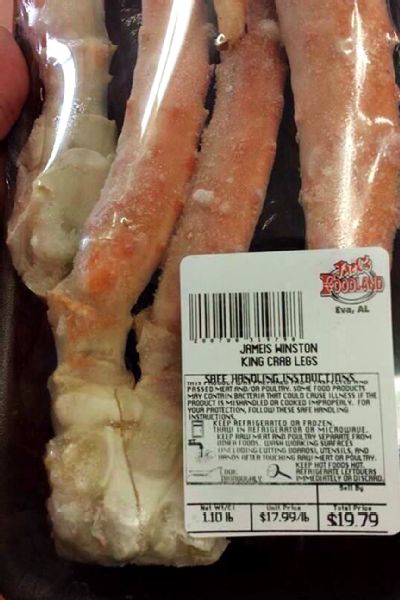 Those crab legs look mighty tasty! Jack's Foodland Supermarket in some town in Alabama I dare not care to even look up advertised these
"Jameis Winston King Crab Legs"
as a joke but it caught fire on social media yesterday. Larry Smith, the owner, says he only made one label (wink wink) and posted it on their Facebook store page and it soon took off. Smith is an Alabama fan and as you probably know Winston is an Alabama native and was considered a recruiting steal for FSU when they took him from the grasps of Nick Saban and Bama two years ago. Jack's Foodland has now been receiving all kinds of media attention since the crab legs went viral and why not? This shit is funny.
Speaking of going viral our
FREE SEAFOOD UNIVERSITY Shirt
has been a hot item since it's debut on Wednesday. This shirt is guaranteed to get people talking and girls are drawn in to it like a moth to a flame. In other words guys or gals if you are looking for the
perfect shirt for the summer
going into the fall this is it.