A lot of people including myself are underestimating how good Notre Dame could be this season. I think it's because of the way the season ended with a heart-breaking last-second loss to Stanford to eliminate their playoff hopes and then following that up with the curb-stomping they took vs Ohio State in the Fiesta Bowl.

But make no mistake ND returns a ton of firepower to team 128 with as much depth as any in 20-plus seasons.

Let's take a look at the positions and hand out some preseason grades:

It starts off with the quarterback position. This is the most talented and deep the QB position has been at ND since I can remember. All 3 QBs could be starters at 90% of other schools. Redshirt freshman Deshone Kizer stepped in for the injured Malik Zaire in the 2nd game of the season and led them to 9 victories with narrow losses to Clemson and Stanford not really his fault. Zaire will battle him for the starter's job and brings a 3-0 career starting record including wins vs LSU and Texas. Brandon Wimbush might have the best arm but the plan for now is to redshirt him since they failed to do so last year because of Zaire's injury. ND has a great problem to have right now at the QB position and it's similar to what Ohio State was facing last year with JT Barrett, Cardale Jones and Braxton Miller. (PRESEASON GRADE: A)



The running back position returns starters Tarean Folston and Josh Adams. Folston is coming off a game one knee injury but is expected to be fully recovered for summer practice. Adams, "the majestic gazelle" as I call him, comes off a record-setting freshman season in which he averaged over 7 yards a carry. Also returning is highly thought of Dexter "Juice" Williams who along with Folston and Adams forms a treacherous trifecta of galloping horses in the backfield. The four horsemen should be alive and well this fall with contributions also coming from Justin Brent and perhaps from one of the incoming freshmen.
(PRESEASON GRADE: A-)
A concern for ND going into the season is how to replace the electric WR Will Fuller. Fuller had an incredible knack to make the big play at crucial situations and his combined 29 TD catches the past two seasons often were 40 plus yards. Combine his loss along with Chris Brown and Amir Carlisle and ND is looking at a whole new starting crew at the WR position. The good news is they have plenty of talent, just unproven at this point. Look for breakout performances from Torii Hunter Jr. and Equanimous St. Brown. I expect both to combine to replicate the numbers Fuller and Brown put together last year. A slew of talented sophomores (Corey Holmes, CJ Sanders, Miles Boykin) and freshman (Kevin Stepherson, Javon McKinley, Chase Claypool) sprinkle the depth chart to which should burst as the season heats on. The TE position returns starters Durham Smythe (returning from knee injury) and sophomore Alize Jones who could become a Tyler Eifert-type weapon especially in the red zone for whomever is throwing the ball. Nick Weishar and Tyler Luatua provide starting quality depth on the 2nd/3rd string for what has solidified Tight End U.
(WR/TE PRESEASON GRADE: C+)
The offensive line lost starters Ronnie Stanley, Nick Martin and Steve Elmer. None of them will be easily replaced in terms of starts but ND is flushed with talent, size and depth thanks to line coach Harry Hiestand. The next great offensive lineman/first round talent appears to be Mike McGlinchey who will be moving from right-to-left tackle to replace Stanley. "Big Mike" has a meaner streak in him than Stanley and it wouldn't be surprising to see him develop into a NFL top 10 pick also. The tools and build are all there for him. Just to McGlinchey's right is another player in Quenton Nelson who is also a tough SOB who can pancake his fair share of interior linemen. With McGlinchey and Nelson on the left side Kizer will not have to worry about his blind side. Center is a question mark with Sam Mustipher edging out Tristen Hoge early on as Martin's replacement. On the right side of the line you have Hunter Bivin at guard and Alex Bars at tackle. Along with QB the depth on the offensive line is unmatched with plenty of underclassmen ready to step in if injuries occur. I fully expect ND to control the line of scrimmage throughout the season.
(OL PRESEASON GRADE: B)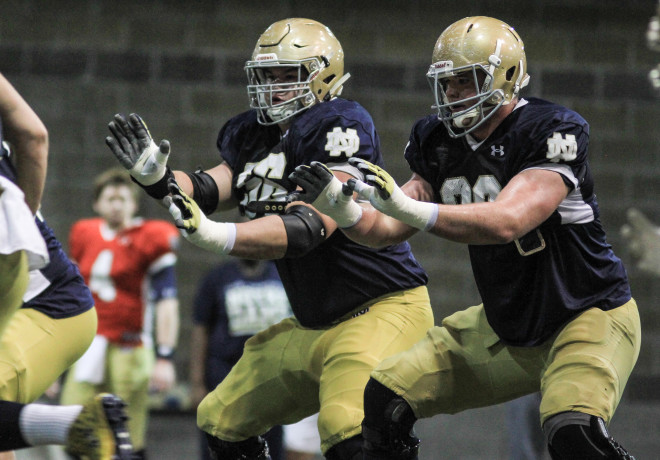 The standard motto of "defense wins championships" will again be tested by a ND group which loses a ton of starters at every level on the field.
The defensive line loses captain DT Sheldon Day and DE Romeo Okwara. Nobody can replace Day's infectious play and motor. But luckily ND has plenty of bodies including the likes of Jarron Jones, Jerry Tillery, Daniel Cage among others ready to make a huge impact in the run stop game. One huge hole for the Irish has been getting to the QB with pressure from the defensive end position. For ND to compete with the big boys and a playoff spot they need likely captain Isaac Rochelle and Andrew Trumbetti to take the next step up and produce sacks/pressures/turnovers. To often in recent years the opposing QB has had plenty of time to pick apart a defense because his pocket was protected. If Rochelle, Trumbetti, Jones and Cage all live up to their potential this defensive line could be the best since 2012. It's a big if though.
(DL PRESEASON GRADE: C+)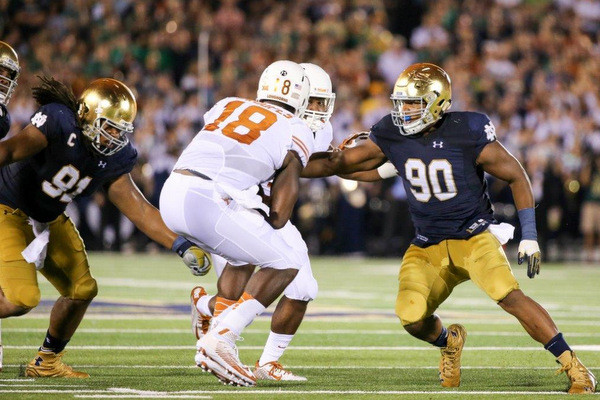 Captains and starters Jaylon Smith and Joe Schmidt are both gone but the linebacking crew in my opinion could be more productive this season. ND relied so heavily on Jaylon to make big plays and be all over the field and Schmidt to make "the right calls/reads" on defense that opponents both game planned away from Jaylon while targeting Schmidt. And let's be honest the defense last year was pretty bad if not down right shitty at times. The one returning starter is at the SAM position in senior James Onwualu. I think Onwualu has the ability to have a huge senior season. He's shown he can get to the QB and with the right schemes I think he has a tremendous season. Nyles Morgan is another breakout performer waiting to happen as he finally starts at middle linebacker. All of the preseason practices have been nothing but adulation from observers for the highly touted Morgan. In my mind and a lot of other ND fans we are both extremely giddy to see Morgan start at the MIKE position. At the WILL position we have Te'von Coney and Greer Martini battling it out for the starter's role. Redshirt freshmen Asmar Bilal and Josh Barajas should also see significant time on the field and could compete for a starting position this summer. With Onwuala, Bilal, Morgan, Martini, Coney and Barajas I expect the linebacker position to be the surprise of the 2016 season.
(LB PRESEASON GRADE: B)
The secondary much like the linebacking core loses two starters but I think it will also be better in 2016. At the safety position you have do-it-all Drue Tranquill back from another knee injury, this one while celebrating vs Georgia Tech. Before the injury Tranquill was having a solid season and the ND defense looked a lot faster and smarter with him in there. Fingers crossed he has a healthy season because I think he could be ND's best strong safety since Harrison Smith. At the other safety position you have an early enrollee freshman in Devin Studstill. Studstill is a true ballhawk at the free safety position and was a tremendous recruiting steal for Brian Kelly and his staff from the state of Florida. All reports on Studstill have been so positive that he's jumped senior Max Redfield on the depth chart. While many think that's being used solely by the coaches to motivate Redfield I honestly think Studstill is the better player overall and will be starting week 1 in Austin, TX. With Redfield and six-year senior Avery Sebastian as the backups ND has to hope they can stay injury free at the safety position because there is a tremendous drop off in experience behind them with 4 incoming freshman. The starting corners will be Cole Luke and Shaun Crawford. Luke had a difficult 2015 season but should turn in a good senior season. Crawford is a redshirt freshman coming off a knee injury (I know shocker right?) but has been graded by observers and media personnel as one of if not the most talented secondary players in the Kelly regime.
(SECONDARY PRESEASON GRADE: B)
The kicking game returns both starters in placekicker Justin Yoon and punter Tyler Newsome. Yoon hit 15-17 field goal attempts, a lot of them pressure-packed, during an outstanding freshman season. Newsome averaged over 45 yards per punt and was great with directional punts to pin opponents inside the 20 yard line. Both Yoon and Newsome are legit All-American candidates with 3 years of eligibility left.
(KICKING PRESEASON GRADE: A+)
FINAL PRESEASON REPORT CARD:
A+ - KICKING GAME
A - QB
A- - RB
B - OL, LB, SECONDARY
C+ - WR, DL