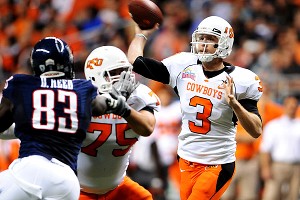 Last year these two teams met for the first time in the Alamo Bowl and it wasn't pretty. Oklahoma State dominated Arizona on their way to a 36-10 pasting in what was anticipated as a much closer game than reality presented. The Cowboys last week beat the living piss out of Lafayette 61-34 while Arizona struggled in the first half against Northern Arizona before winning 41-10.

Arizona has a big armed QB in Nick Foles who last week threw for 412 yards and five touchdowns. He is a legit NFL prospect and will definitely put some points on the board against a suspect Cowboy's defense in Stillwater. Problem is his #1 threat in Juron Criner is out of this game for undisclosed reasons. So Foles is going to have to rely on others to step up in hostile territory. Yeah I'm not counting on that either.

Oklahoma State also has a NFL prospect at QB in Brandon Weeden. Weeden will be throwing to the best receiver in the game in Justin Blackmon. The Cowboys have one of the best offensive lines in the nation and should have their way with a suspect Zona front 4. This game on paper looks like a total mismatch.

Now the line is currently at -14 in favor of the home team. It should be more. Oklahoma State is looking to make a statement on Thursday night (even though most of the nation will be tuned in to NBC) on ESPN. The statement is they are not only a top 10 team but possible a top 5 for the voters to consider.

SportsCrack.com Prediction: Oklahoma State 55 Arizona 28

I think the Cowboys easily cover the 14 at home and I also like the OVER of 66.