These guys need to show more on the football field this fall vs top 25 teams before I'm willing to give them Heisman-worthy accolades...

1. Baker Mayfield, QB, Oklahoma - Mayfield finished 4th in the Heisman last season despite playing pedestrian vs the Sooners top competition (Tennessee, TCU, Texas and Clemson). At this point until Mayfield proves it against top 25 teams his overall play is overrated.

Now if we are talking about underrated we could point out Mayfield's hypnotic dance moves...

2. Jabrill Peppers, LB, Michigan -
Talent wise I think Peppers is one of the best in college football. Production wise though he hasn't come close to matching his high school rankings and will now be playing linebacker for Harbaugh and company. He should be playing corner/safety. If Peppers can prove himself as a hybrid LB he will quickly come off this list. But at this point going into the season he is overhyped.
3. Brad Kaaya, QB, Miami -
I've tried my hardest to see what exactly all the expert draft gurus see in Kaaya. He reminds me of Christian Hackenberg a little bit. He looks the part of big-time college QB with a good frame but his stats don't match the picture. I've seen some draft mocks with him going top 5 overall. No way. Overrated and overhyped.
4. Josh Rosen, QB, UCLA -
Rosen is much like Peppers on this list. Talent wise he's elite for sure. But he's still real young and makes a lot of poor decisions both on the field and in social media. He needs to grow up and mature. At this point it is insane for any publication to put him on their top 10 college football players in the game but I have seen it numerous times. Rosen is overhyped going into his true sophomore season.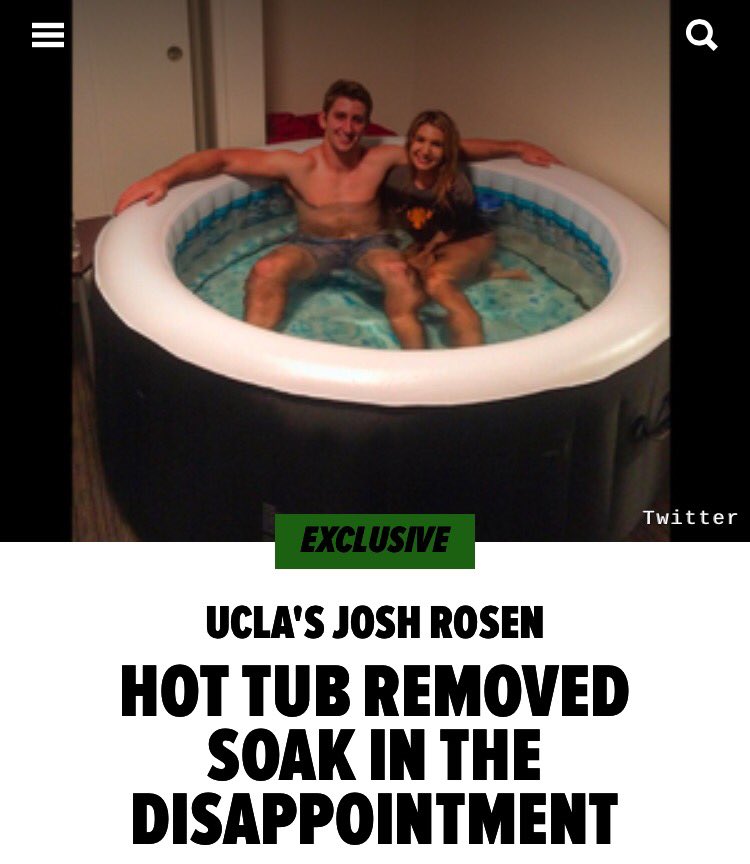 5. Carl Lawson, DE, Auburn -
To be fair injuries have held back Lawson for the most part of his collegiate career. But still he's going to be a senior and he has yet to make an impact as projected coming out of high school. At this point he is more overhyped than overrated because of the injuries.
6. Joshua Dobbs, QB, Tennessee -
As a runner I like Dobbs a lot but he's a QB. He needs to get better accuracy throwing 10 yards past the line of scrimmage or defenses are going to stack the box against the Vols all season. Much like Tennessee and Butch Jones I think Dobbs is overrated going into 2016.
By the way somebody tell Dobbs to stop blocking the television...
7. Tim Williams, LB, Alabama -
Misses way too many tackles. Plays stiff and is undersized. Decent pass rusher but not very good against the run. He's a product of a great defense surrounding him IMO and benefits from his teammate Jonathan Allen getting double teamed.
Even his "highlights" aren't all that impressive...
8.
C.J. Beathard, QB, Iowa -
I've read some
articles listing Beathard a top 20 overall player
in college football over the likes of Greg Ward, Calvin Ridley and Adoree Jackson among many others which is flat out crazy talk. Yes Iowa had a good year but I wouldn't say Beathard won them many games.
9. Zach Banner, OT, USC -
People look at his size (6'9, 360) and automatically think All-American tackle. But Banner hasn't played like an AA in his first 3 seasons at USC. At this point in his career he is more overhyped because of his size.
10. O.J. Howard, TE, Alabama -
If you watched the NCG vs Clemson (5 catches for 208 yards and 2 TDs) you are probably laughing your ass off because I included Howard on this list. But if you look at the prior 3 full seasons before that game you would wonder what all the hype was for Howard coming out of high school. There is a reason why Howard came back for his senior season instead of cashing in on his big performance vs Clemson. For a man his size he needs to be more physical and run better routes. Until then he is overrated and overhyped.
VISIT OUR STORE PAGE TO HELP SUPPORT THE WEBSITE!