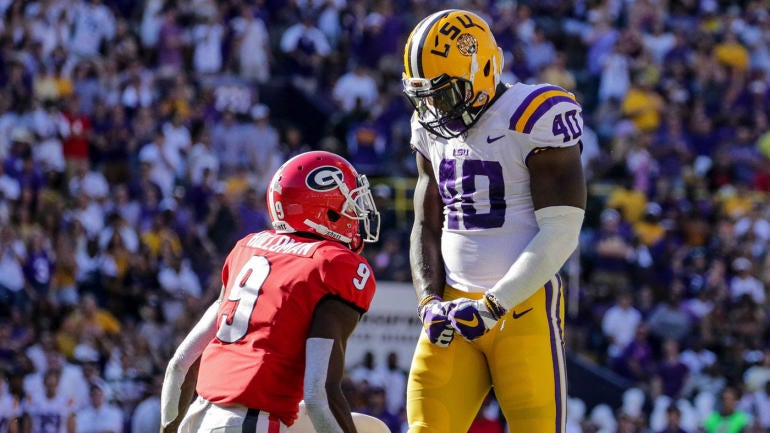 1) Alabama -
The Crimson Tide had what appeared to be another snoozer vs Mizzou till Tua Tagovailoa did this gingerly slide and OMG he knee just fell off...
All kidding aside Tua has a sprained right knee and might not play this week vs Tennessee. Nick Saban might want to hold off Tua and start Jalen Hurts this week because they have a bye week before the huge tussle with LSU in early November. Better to be safe than sorry with Tua who needs to be healthy going in to a rough environment in Baton Rouge.
The other controversy from the Mizzou game was DL Raekwon Davis playing speed bag with an offensive lineman.
Luckily Saban has already come out and said Davis will be handed discipline internally. In other words he might miss a series vs Citadel.
2) Ohio State -
It wasn't the prettiest performance at home vs the Golden Gophers but the Buckeyes did enough to survive the upset bid winning 30-14 on a college football day full of upsets. QB Dwayne Haskins was his normal brilliant self and with Tua possible out this week he could move himself into the frontrunner position with a big performance vs Purdue on Saturday night in West Lafayette. Purdue will not be a pushover as they come in hot riding a 3-game winning streak. It would not be shocking at all to see this game come down to a final drive for the win.
3) Notre Dame -
The Fighting Irish with Ian Book got their first come-from-behind victory of the season vs the pesky Pitt Panthers 19-14. Thanks to two special teams gaffes the Panthers were gifted 14 points but the Notre Dame defense led by DC Clark Lea had another brilliant performance holding Pitt scoreless with just over 200 total yards. Book completed over 80% of his passes but did have his first turnover (2 INTs) of the season thanks to a Pitt defense that game planned really well with corner blitzes. ND could never muster up much of a running game and will be looking to get their offensive line gelling going into the bye week.
4) Clemson -
The Tigers jump up a couple of spots in my poll by having a bye week and watching college football carnage from their couches. This week they have to prepare for an underrated NC State team that comes into Death Valley undefeated. Clemson and Trevor Lawrence will need to play better if they want to come out with the W as the Wolfpack will be stacking 7-8 guys in the box trying to stop Travis Etienne.
5) LSU -
Wow now that was an ass kicking I did not see coming on Saturday. LSU completely dismantled UGA 36-16 in Baton Rouge. They ran all over the suspect UGA run defense for 275 yards and knocked Jake Fromm around enough to watch him have a career worst performance. After losing a heartbreaker to Florida last week this was a huge bounce back for Ed Orgeron and his team. LSU probably has the best resume of any one loss team and now sit just outside of the playoff but in the drivers seat if they can beat Bama in a couple of weeks.
6) Florida -
The Gators rallied from 21-3 down in Vanderbilt in what looked like a classic trap game coming off the emotional win vs LSU the week before to win 37-27. The one loss Gators are off this week before going to Jacksonville for the World's Largest Cocktail Party in a game vs UGA that will help determine who wins the SEC East and stays in contention for the playoffs.
7) Georgia -
For the first time since the Auburn game last season Kirby Smart and his UGA team had no chance to win in their first game vs a winning team this season in LSU 36-16. Jake Fromm had an awful game and there are some whispers in Athens that freshman Justin Fields needs to be given more of an opportunity to play some series in two weeks vs Florida. We will see but it won't matter who's playing QB unless UGA tightens up both lines of the scrimmage during their bye week.
8) Michigan -
The Wolverines make their first appearance in the top 10 after a resounding win vs Wisconsin 38-13. Besides the close game vs Northwestern a couple of weeks ago Michigan has been steamrolling their opponents not named Notre Dame. QB Shea Patterson appears to be getting more comfortable in the offense and will need to play at the top of his game this week as they travel to East Lansing to take on Sparty.
9) UCF -
McKenzie Milton threw for nearly 300 yards as UCF came storming back from a double digit deficit to beat Memphis 31-30 and extend the nation's longest winning streak to 19 games. This week they get a down East Carolina team before playing a tough November schedule which could include 3 ranked teams.
10) Oregon -
Oregon is one kneel down from being undefeated and probably in the top 5. While they completely choked away the Stanford game a few weeks ago they have rebounded by posting back-to-back top 25 wins vs Cal and Washington. This week they travel to Pullman to face another top 25 team in the first ever ESPN College Game Day visit there. If Justin Herbert can lead the Ducks to a win Oregon could win out the PAC 12 and make the playoffs.